Some Faculty members of the University for Development Studies (UDS) have participated in a one-day capacity building seminar in Grants and Grantsmanship at the Dr. Andani Andan Academic Board Chamber of the University, Tamale. The seminar was organized by the West African Centre for Water, Irrigation and Sustainable Agriculture (WACWISA) in partnership with the Institute for Interdisciplinary Research (IIR) of UDS.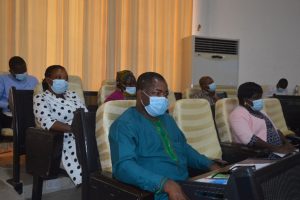 The training took place on the 13th October, 2021 and attracted about one hundred and forty (140) participants and four (4) resource persons from three (3) of the World Bank Africa Centers of Excellence (ACEs); West African Centre for Water, Irrigation and Sustainable Agriculture (WACWISA), West African Centre for Cell Biology of Infectious Pathogens (WACCBIP) and African Centre of Excellence in Coastal Resilience (ACECoR).
In his welcoming address, the Vice-chancellor of UDS, Prof. Gabriel A. Teye emphasized the relevance of the training which is aimed at building the capacity of Faculty to be able to attract grants for research and also to enhance the visibility of the University. He was delighted about the presence of resource persons from other ACEs, who have won competitive grants and are seeking to share their experience and knowledge. He also revealed that WACWISA has made this training possible through ongoing collaborative activities with IIR of UDS.
The Director of WACWISA, Prof. Felix K. Abagale in his brief remarks acknowledged the support from the resource persons from the ACEs and UDS, especially the process leading to the institutionalization of WACWISA at UDS. He revealed that external sources of research funding such as grants compliment limited government funding for academic institutions.
The Director of IIR of UDS, Dr. Abubakari Abdulai in his opening remarks revealed commitments by the University in supporting capacity building of Faculty in external sources of funding in bridging the gap of financing for research at UDS.
The topics for the training focused on; Importance of Grants in the Academic Setting, Grants for Research and Development, The Grant Management Cycle, Writing and Managing Successful Grant Proposal. The following were resource persons for the training; Prof. Gordon A. Awandare, Founding Director of WACCBIP, Prof. Denis W. Aheto, Director of ACECoR, Prof. GordanaKranjac-Berisavljevic, Deputy Director of WACWISA, and Prof. SaaDittoh, Grants Coordinator of WACWISA.